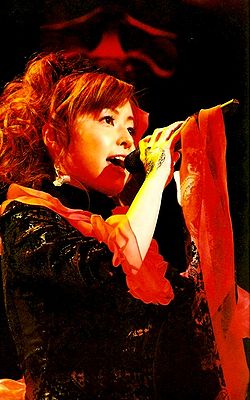 Yes, that's right.
REMI is now officially working for Yuki Kajiura.
I first heard REMI from the collaboration single of Revo & Yuki Kajiura titled 「Sajin no Kanata he」, where she, along with KAORI, KEIKO, WAKANA, YURIKO KAIDA, and YUUKI, sings the first track of the single.
After that, I started listening to Sound Horizon's discography. She's really good. If you compare her to other Yuki Kajiura vocalists, I say she has a voice just like Hanae Tomaru when she's singing in soprano and just like KAORI when she's singing in mezzo-soprano.
She's also featured in lots of anime soundtracks such as Fairy Tail, Mononoke, Naruto, and so on.
She's currently featured in the anime 「sword art online」 where Yuki Kajiura is composing the BGMs. And oh my gosh! I love her Kajiurago track from Episode 2!!! Very very good!
I do hope that Kajiura collaborate with her again in her next compositions. Who knows? She might be appearing in the next FICTION III album. Well, that's just me hoping.